I Love You, You're Perfect, Now Change - 2012 (photo: Jenni El Fattal)
September 13 - October 6, 2013
Book by Jeffrey Lane
Music and Lyrics by David Yazbek
Based on the popular 1988 film, Dirty Rotten Scoundrels follows two con men living in the French Rivera, one making his extravagant living by swindling rich ladies out of their fortunes, and another who scams women by waking their compassion with the fictitious tragic tale of his grandmotherís waning health. Upon meeting they ealize the small town isnít big enough for more than one fraud. However, the con artist that comes out on top may come as a surprise to everyone. Nominated for many Tony Awards, Dirty Rotten Scoundrels is a cheeky, irreverent musical sure to keep everyone laughing until the very end.
Rated PG-13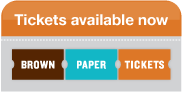 Also consider purchasing a
SUBSCRIPTION
to secure your seats for every show next season now!