Seattle Musical Theatre is Seattle's longest running musical theater company.
We work hard to bring quality, engaging productions of the musicals you love to local audiences.
Tyrone Brown, Artistic Director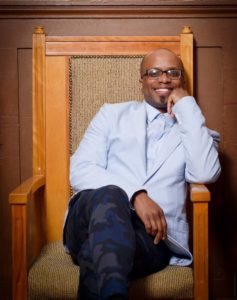 An accomplished producer and director, Tyrone has worked nationally with MCC Theatre in New York and Old Globe Theatre in San Diego.
Regionally, he has worked with companies such as ACT Theatre in association with Sidecountry Theatre, Annex Theatre, Broadway Center for the Performing Arts, and Sound Theatre Company. He is the founder of Brownbox Theatre, co-founder of The Wrecking Crew, and producer and lead vocalist for The Billy Stayhorn Project, a jazz review celebrating the life, legacy, and music of the composer. Brown is an alumni of the Drama League Directors Project in New York, earned his Master in Fine Arts Leadership from Seattle University (SU), and currently serves as an Assistant Director for the Office of Multicultural Affairs at SU as well.
"I'm honored and excited to be asked to join Seattle Musical Theatre. I have a special relationship to the legacy of SMT. Back in the 1980's I had the honor of being cast in the child role of Scipio in the Civic Light Opera (CLO) production of Gershwin's Porgy and Bess, under the direction of Dr. Tawnya Pettiford-Wates. That experience on the Jane Addams School stage was profound and life changing and planted the seed in me to become the theatre director, producer, and arts leader that I am today."